DVD/VMR Postprocessing
Recently two friends made me aware of some additional filters some DVD/video playback programs have introduced.
A detailed article can be found here:
http://htpcnews.com/main.php?id=ffdshowdvd_1
One of the filters that those apply for example is an edge-sharpening filter, very much alike as the similarly named filters in photo-editing applications like Photoshop for instance. To illustrate what effect such a filter can have, here are two screenshots from Pixar´s Monster Inc, borrowed from the article above: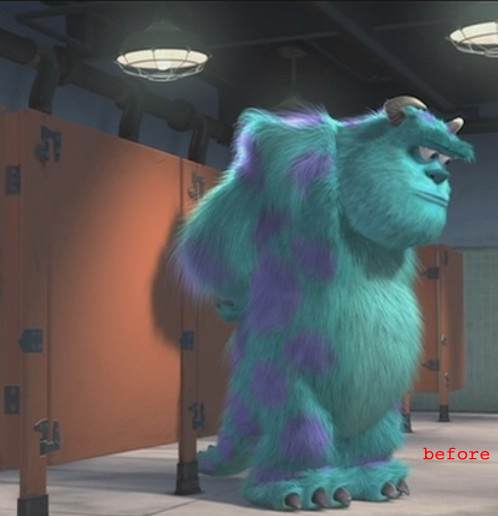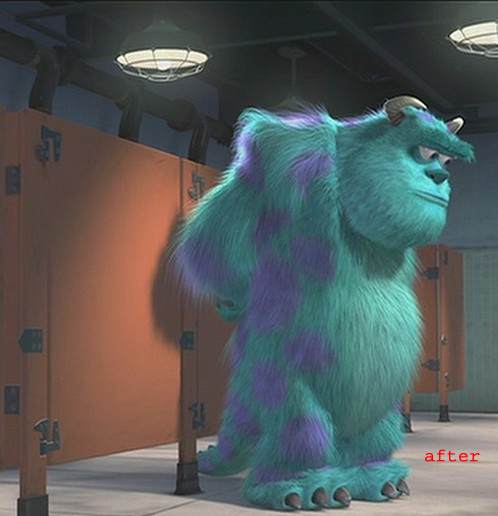 Of course the above is one of the best-case scenarios since fur is one of the cases where edge sharpening will benefit most. The positive side of the story is of course the improvement in image quality; the negative aspects are for one that a too aggressive degree of sharpening will introduce annoying aliasing in some sceneries and the fact that neither edge sharpening nor any other filters actually work with hardware acceleration enabled, which means that the CPU load can get quite high during playback, especially if more than one filter is being applied.
InterVideo´s WinDVD 6.0 Platinum Edition is in fact using such a filter (amongst others) and can be enabled on all setups, as long as HW acceleration is being disabled. Here´s a shot from winDVD´s toolbar and the filters the application includes:

Filters can be applied also on half the screen, in order for the user to see each filter´s effect on image quality:

You may ask yourself where the connection exactly is with the review in question. NVIDIA has in it´s drivers an image sharpening filter, which from my understanding is quite similar to the above described filter. Trouble is that it´s not applicable for Overlay/VMR. This is somewhat a "plead" to NVIDIA or in expansion all IHVs to include such filters/effects in future drivers or even products for DVD/VMR playback. I´d think that a lot of post-processing effects should be possible via advanced shaders, especially with Shader Model 3.0.
I can save some CPU resources in winDVD while leaving hardware colour acceleration enabled (yes that´s possible), yet the CPU utilization exceeds the 40-45% mark with let´s say sharpening and movie effector enabled. It´s not a big problem to be honest, since demanding 3D games utilize the CPU even more, yet if the hardware is there and to that is quite advanced it´s a shame to not be able to use even more of it´s abilities.
Last special thanks go to b for pointing out the article at HTPC news and EvilEngine´s precious feeback/guidelines for winDVD and said post-processing filters. Consider my gratitude to the site´s administrator Loewe for hosting my novel-sized drivels for granted ;)