NEED FOR SPEED: UNDERGROUND
1280*1024*32
4xS + 16xAF
Maximum in game detail
Olympic Square
Frames: 3669 - Time: 79313ms - Avg: 46.259 - Min: 29 - Max: 69

Inner City
Frames: 3299 - Time: 68672ms - Avg: 48.039 - Min: 34 - Max: 66

1280*1024*32
8xS (2xOGSS + 4xRGMS) + 16xAF
Maximum in game detail
Olympic Square
Frames: 3241 - Time: 77718ms - Avg: 41.702 - Min: 26 - Max: 58

Inner City
Frames: 3009 - Time: 65468ms - Avg: 45.961 - Min: 33 - Max: 71

Impressive. Granted the difference between 4 and 8xS is actually only 2x MSAA samples (which translates into only minor fill-rates penalties), but getting still playable performance in 1280 with maximum in game detail (sans motion blur/light trails always) can't be overlooked. The resulting EER for 8xS (as I've already said in the according AA/AF page) is 4*8. If you'd theoretically compare sampling methods with the competition, you'd get theoretically with 6x sparse MSAA a 6*6 grid, meaning that on the x-axis you end up with better sampling, yet lose on the y-axis instead. There the loss is two folded; higher sampling grid and superior polygon interior antialiasing quality.
To avoid misunderstandings the hybrid sampling modes cannot be considered useful under all occasions. Unless you start trimming severely in game settings or use quite low resolutions those modes aren't an option for the majority of recent demanding games and even more for FPS games. The hybrid modes will find excellent usability in older games, highly CPU bound applications that do not require high framerates as of course games (mostly older) that contain a lot of alpha textures.
Frankly I've always been more in favor of Multisampling/AF combinations with as high as possible resolutions, yet that doesn't mean that I don't acknowledge the superior quality a Supersampling/AF combination can deliver. IF performance allows utilizing the latter combination, there's no dilemma for me in using it; sadly enough any form of Supersampling costs fill-rate (or more fill-rate than any current Multisampling implementation will), which limits it's usability to certain cases with specific conditionals.
[As a side note to me any resolution below at least 1152*864 looks unacceptable here on this 21" CRT. One shouldn't ignore that resolutions and monitor type (CRT or LCD) and size (on a 15" 1024*768 is a high resolution, while on a 21" rather a low resolution) either when it comes to antialiasing.]
In the two games tested above, F1 2002 can make definite use of a Supersampling portion due to it's extreme texture aliasing/shimmering, which can't be cured even when using a 16*12 resolution; Underground on the other hand doesn't absolutely need Supersampling, the enhancements in image quality though are obvious.
Sadly enough differences can rarely be illustrated in screenshots, apart from some corner cases. Like in 4x4EVO 2; you really have to have a close look on the leaves of the trees. It's way more apparent in real time.
4xRGMS / 16xAF: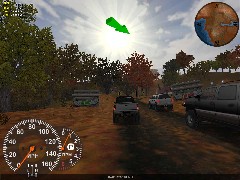 4xOGSS / 16xAF: